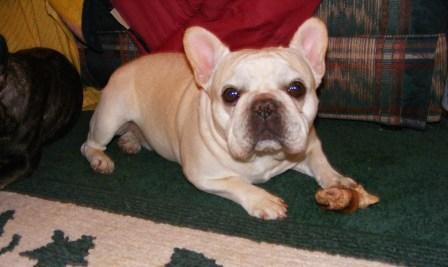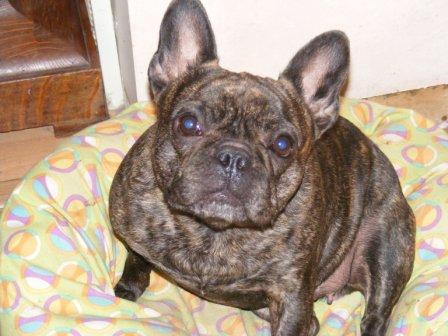 Baxter                                                              Alix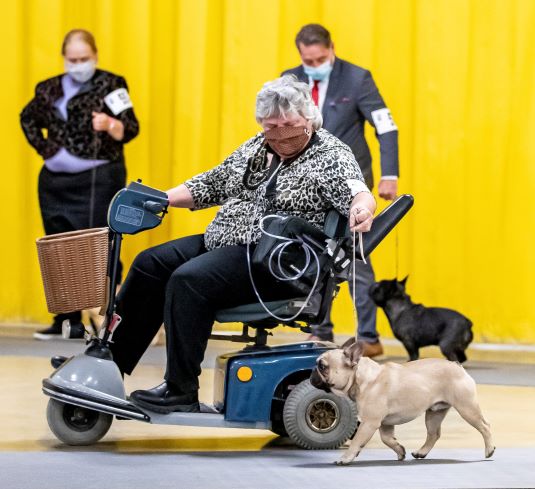 I pride myself as a preservation breeder and do not breed Designer colors or coats.
    My life with French bulldogs started in 2001. My friend Nancy Johnson presented me with a 
French bulldog puppy 
to co-own, who would later become Can./ Int'l / AKC Champion Maplewoods Baxter DQ Piper. I went to my first show and that was it. Nancy had created a dog show nut and new 
French Bulldog breeder
.  I was hooked and started to handle my dogs myself.
    I later obtained my foundation bitch from Nancy, who later became Can./Int'l /AKC Ch. Maplewoods Smart Alix Piper.
    These lovable little clowns make our family laugh with their silly antics and pouty faces, especially when they have us believing they are just small people who know everything we are talking about. My extended family have now caught the Frenchie bug also. Several family members now own and cherish their own Frenchies and can't believe they have finally found the right fit for their families. Our dogs have to be our pets first and show dogs second.
    I grew up spending every summer and school break on my grandparent's and uncle's farms. I learned good breeding and husbandry there, but most importantly my uncle would review cattle magazines with me explaining what makes one animal superior to the other by looking at the different structures to each animal. How the animal is put together makes a difference. It is important to recognize this when breeding dogs. The dog should be bred to be healthy and strong with a good skeletal structure, especially since French bulldogs are a dwarf breed. This is very important in breeding animals that will live a long healthy life.
    I became a certified Veterinary Technician in 1994. My education and knowledge of animals allowed me to find a job with as a Minneapolis Animal Control Officer. This is a rewarding job that fulfills my need to both take care of, and protect animals. It also finances my dog show costs.  Showing dogs is expensive with no real return, so you have to love it.
    I bred my first litter of 
Frenchie puppies
 in 2006 and have been very successful producing several champions in my short time as a breeder. I have successfully won Grand Championship titles on two of the dogs I bred and owner handled.
    I have achieved the AKC Breeder of Merit title. To obtain this title a breeder must complete five championships with dogs that they have bred, but also complete the health testing required by the parent club, French Bulldog Club Of America (FBDCA). The testing results are sent to the (Orthopedic Foundation For Animals) OFA to be evaluated and obtain a CHIC number.  I believe in completing the OFA health testing for two reasons. One is to be aware of the health issues in my breed. Two is to test so that I can breed away from any concerns. Knowledge is power. I have not found the perfect Frenchie yet, but good breeders are always looking to improve their breed. I believe I am one of them. Frenchies are a dwarf breed and have some health problems, so be aware that like any other breed the purchase price is just the start to owning any dog.
    I am a current member of the French Bulldog Club of America, the Great Lakes French Bulldog Club and the Greater Twin Cities French Bulldog Club here in Minnesota.
    Researching the breed with the French Bulldog Club of America is the best way to decide if the French Bulldog is right for you.  You can also read my links which have added information.  Frenchies are closer to couch potatoes than most dogs, but do love to play and act silly.  I have found Frenchies tend to have less emotional issues than most breeds.
    I am located just north of Minneapolis so I am central to the Minnesota French Bulldog activity.
    I now Show my dogs with a scooter, but they love to show and so do I.
    Find answers on some of my links.  I welcome contacts if you have questions you have not found the answer to. Email me with questions on my contact page.
Thank you for visiting!