Most puppy buyers are looking for a

certain

color

and find themselves frustrated because everyone else is as well. You will not find designer colors on this site or any other reputable breeder's site. The dominate color in French bulldogs is brindle. I tend to have different colors in the same litter but, buy a healthy puppy not a color of a puppy. Be aware that you may search for an extended time if you are not willing to look at the whole litter as a potential new family member. Most litters are 2-4 puppies. Health should be your first concern. Ask for the health testing that has been done on the parents. See if they have the health testing posted on the OFA (Orthopedic Foundation for Animals) website. The CHIC number is given if the testing recommended for the breed has been completed. If it is not posted ask if they have had it done, then ask for proof.
I do have reputable breeder friends who also have litters due or expected. I am glad to help with your search for a new family member.
My one warning is to be careful finding a puppy. There are puppymills selling Frenchie puppies. We have seen a problem with bait and switch and buyers ending up with sick puppies, a puppy of a different color and even puppies that never arrive. If you live in Minnesota you have protection from the puppy lemon law but only if you buy from a Minnesota breeder. It is still important to be sure they are only selling AKC puppies. Other registries are not
necessarily
legitimate.
This years parents will be Feleena, Lacey and Ruby.
Expecting them to start their season soon.
Look at the Girls to see these sweet future moms.  If interested in puppies please read my contract to see if you are comfortable with it,  I will share who is being matched with which males.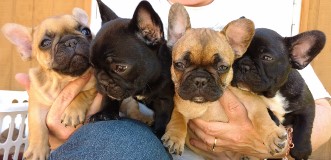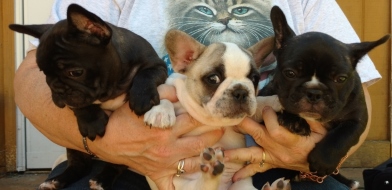 Males and Females $4,000.00
This litter was placed. It is an example of the puppies we have. Look at the "
Available"
page for the current puppies
available
now.
I do post litters for friends
I do not ship puppies, You will be required to pick up your puppy.