Presents
Gabby
Piper's Making An Announcement
Win pointed and working on her Championship
Sire: Maplewoods Line Of Credit
Dam: Piper's Gigi De Estep
Whelped: 12-20,10
JC Clear by parentage
Gabby is co-owned with Lynn and lives in St. Cloud where she is also preparing for agility compitition.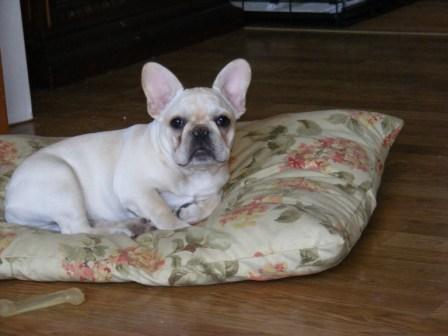 Achievements
: Pointed and just starting her Championship. Training for agility competition and doing well.
Gabby (aka Blondie) is co-owned and lives with Lynn Arldt in St. Cloud. Lynn is very active in agility with her dogs.
Pedigree

Parents

GrandParents

GreatGrandParents

SIRE

Maplewoods Line of Credit NP23183101 (Cr)

Am / Can / Intl Ch. Maplewoods Legacy From Piper NP12594202 (Fn)

Ch.

Kae-Rae Romers Monet Of Las Alle NP02165403 (Cr)

Am / Can / Intl Ch.

Maplewoods Smart Alix Piper NP05430806 (Brdl)

Am / Intl Ch.

Nub Is Just Playing NP11245701 (Brdl)

Ch.

Fancibul Lagniappe D'Ouibul (Cr)
Odoms Norway The Viking Sheba (Brdl & Wht)

DAM

Can / Intl Ch. Piper's Gigi De Estep NP13876603 (Brdl)

WL'S Cayenne NM87452001 (Cr)

My Buddy Budda The Clown NM81105501 (Cr)

Senuous Sidney

NM84281302 (Brdl)

Uma To Co Najlepsze NP08753901 (Fn) (Pol)

Narsico Dei Boulegati

PRX IX-41821

Julka To Co Najlepsze

PRX IX-4295